Industry News
2019 Best Baby Tricycle Buying Guide From Factory Technician
2019 Best Baby Tricycle Buying Guide From Factory Technician
BY FLYBABYTOYS · PUBLISHED May 16, 2019

This is from Baby Tricycle Factory Technician - So, your little boy or girl is an active and fiercely independent toddler now. Great! you must be having a hard time keeping them occupied. Get them a baby tricycle. This article will help you to choose the best from online.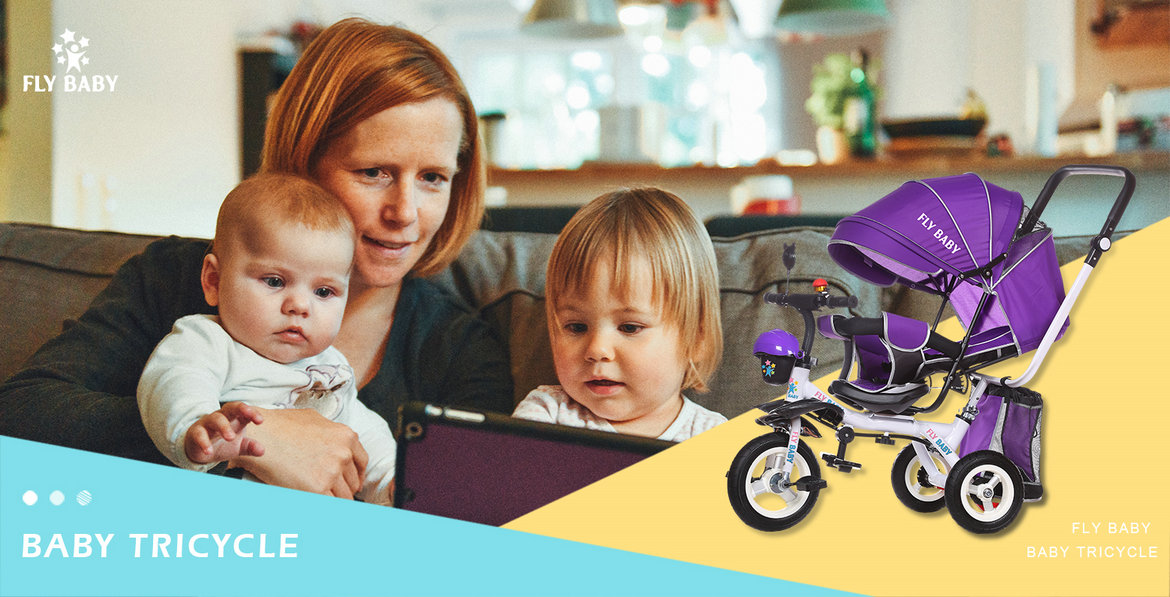 Riding a tricycle, just like 4-wheeler kids ride on car isn't only fun, but it will give them plenty of outdoor time and exercise, confidence, and improve their mobility skills. That said, there are too many models to choose from and comparing each kids tricycle is bothersome. Hence this article to save you the trouble.

From basic tricycles to stylish, advanced, foldable baby tricycles, we have rounded up the best of the bunch for every budget. Read on…
Main Considerations for Buying a Children Tricycle:
Most parents start tricycle shopping when their kid is between 1 and 1.5 years old. Tricycle riding is not only exciting, it also helps toddlers with balance and coordination. Before your little boy/girl rocks his/her new toy you'll want to go over this rundown below.

Right size for age – Age and size of your children are two of the first things you should consider. In fact, all tricycles come with 'manufacturer recommended age'.
Safety – When you search 'best toddler tricycle' online, look for the ones made from sturdy metals like aluminium, steel, and premium-quality rubber rather than poor quality plastic. Make sure the model meets safety standards like BSI, ISO, or EN 71. Also, have a check on the steering.
Tipping over and sliding off may happen especially when kids are new to riding. So, don't forget to pick up helmets and knee pads along with the trikes.
Portability – If you're a wanderlust family, you may want to consider foldable tricycles. And yes, the foldable one may have a hefty price tag.
Size and weight – Heavier toddler tricycles won't tip over easily but ensure your child can handle the vehicle's weight. Otherwise, explore the lightweight tricycle options.
Price – For parents on a budget, there are tricycle models as low as 30USD. However, high-end models – like motorized trikes and 5-in-1 stroller to trikes can cost even five times (or more) that price.
Grow with child – If you don't prefer buying tricycles every summer go for a 'grow with the child' model even if it is pricey.
For example, the adjustable seat and removable canopy, push handle, and footrest allow you to use the bike as a stroller for your kids. As he/she grows, you can get rid of these extras one by one once they master self-steering and pedaling.

When selecting trikes, you should take decision depending upon the above 6 points. We have listed the best items depending upon these criteria only.

But there are few finer details along with FAQs which also are important. If you need to check them, scroll down to the end section of this article.
FlyBaby 5-in-1 Portable Foldable Baby Tricycle
Who's designed this stylish children's tricycle? FLYBABY! With front bottle holder, rear storage box, removable backrest, and foldable middle footrest, this is another grow-with-your-child tricycle. That means you don't have to worry about buying another tricycle next year unless there's a great growth spurt! It has adjustable parent handlebar with parent steering control which you can remove or hide when your boy gets toddler's license to pedal it alone.

What's more, with safety features, such as the 5-point harness, safety belt, and a detachable UV-blocking canopy, you can rest assured your kids are in good, comfortable hands. Assembled dimensions are 95 x 49 x 98 cm.
Who it's for: 12 months+ kids

Carrying capacity: 50Kg

The Good:
Ergonomic sleek design
Easily foldable, portable, fits in most cars
Reclining seat with soft cushion
Foldable middle footrest to increase comfort
Front freewheel system with wide base
Detailed Buyer's Guide of Baby Tricycle for Online Buyers:
Physical Ability: Don't buy a trike or tricycle just because the other kids in your neighborhood have one. Consider your child's physical ability to balance, pedal, reach for handlebars etc.
Intended Area of Usage: Some tricycles are more suited for indoor use and others for outdoors, so, the intended area of usage is another critical factor. A handy tip: plastic models work better indoors whereas your kid may need sturdier steel or aluminum made trike if he/she has a thing for outdoors.
Durability: Factoring in durability into the decision-making process is also important if you have the most energetic kid at home. The material used is another consideration because material and durability go hand in hand. Steel and plastic are the two basic materials used for making tricycles. Steel is sturdy but can rust over time whereas plastic is less sturdy but won't rust.
Style: Know what style fascinates your child – colorful decals, horns, lights, music, storage space and whatever they love. For example, a roomy storage space for their toys and drinking bottles comes in handy while strolling or riding at parks.
Comfortable Backrest: Tricycles with the triangular seat are basic. Then there are the ones with comfortable backrest. In advanced models, seats are either positioned just like a regular motorcycle or sit low to the ground. Choose the one according to kids' comfort.
Material Quality: While you may think that cheap price may mean poor quality, this is not at all the case, because a tricycle made with affordable materials doesn't necessarily mean that the manufacturing is substantial.
Reviews: As a parent getting other parents' green signal is important when you buy tricycles. So make it a habit to check out the reviews that other parents have already left for the tricycle that caught your attention.

Above is From Flybaby Children Toys Co.,Ltd- China Baby Tricycle, Baby Tricycle Manufacturer, Baby Tricycle Supplier
Categories
Contact Us
Contact: Kathy
Tel: 86-319-7915668
Fax: 86-319-7915668
Add: Zhengzhoutian Industry Zone,Pingxiang County,Xingtai City,Hebei,China
Email: [email protected]